Commercial Cannabis HVAC System
If you're getting started in the booming business of commercial cannabis products, congratulations! You've got a lot of work ahead of you, but it will be greatly worth the rewards. At Cultiva Systems, we work primarily with Commercial Cannabis farmers as well as other indoor farming systems. Indoor farming is the way of the future, and if you're looking for a Commercial Cannabis HVAC System that can help facilitate growth in your products, look towards Cultiva Systems.
Cultvia Systems has created a unique and powerful HVAC system that solves many problems for commercial cannabis farmers like yourself. So whether you're starting a new operation, or looking to improve your current one, contact Cultiva Systems to how many ways you can improve your crops.
The Benefits of Cultiva System's Commercial Cannabis HVAC Technology
If you're starting your commercial cannabis business with a standard HVAC system and a pool dehumidifier, you may have come across some issues. Are you plants not producing like you hoped they would? Do you find that your heating and cooling costs are ridiculously high? Do your neighbors complain about the odor coming from your facility? All of these problems can be solved with Cultiva System's Commercial Cannabis HVAC technology.
Fewer Fertilizers and Pesticides
When you control the environment around you, you can control what goes in and out of it. Keeping the air cycling and fresh will keep away pests such as bugs. With fewer damaging bugs, you'll need to spend less on pesticides and other harmful chemicals. And with a supportive air system, you'll find your environment is more optimal for plants, causing them to grow more and yield more products.
This is especially important in the commercial cannabis industry. Products like oils and tinctures are consistently tested for purity. People expect their cannabis to be pure and safe. Don't ruin your crops with harmful chemicals like fertilizers and pesticides.
Save Money On Heating Costs
As plants grow, they live as though they were outside. At night, your growing space should be stripped of moisture without making the space too cold. Maintaining this perfect balance isn't possible without the heat recovery abilities that come standard on our self-contained units.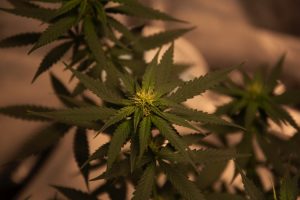 Heat Recovery allows a room to be maintained at a certain temperature without keeping lights on or supplemental heat. Whatever heat is rejected is recovered and then transmitted into the room. No waste heat or transfer heat is lost in the process of cooling.
Not only is this heat transfer good for commercial cannabis operations, but it also is energy efficient. Our Commercial Cannabis HVAC system helps your growing facility by providing an energy effecting fan and compressor components and operation. We integrate these components to maximize energy efficiency while achieving the desired conditions, which results in a lower operating cost to the grower.
Dehumidification and Air Quality Control in One
Not only will Cultiva's Commerical Cannabis HVAC system help with your energy costs and waste heat process, but our units are also capable of strong dehumidification. This is unrivaled by any of our competitors and it's one of the main reasons why our customers love our products so much.
Grow rooms need to be dehumidified without overcooling the space. You could spend money on hot water, gas, or electric heat, but that drives your utility costs up. With our dehumidifier, we recover the heat all while maintaining optimal air quality.
Air quality in your commercial cannabis operation will be easier to monitor and maintain with Cultiva Systems. Our HVAC controls system can be accessed from any computer, tablet, or smart phone. You can set alarms, monitor progress, and collect data to figure out which settings your plants will grow best at.
Greater Odor Control
Cannabis has a very distinct odor. There's no debating that. What is a pleasant smell for some, might not be for others. Whether you have a large spanning space or a tight area with nearby neighbors, you don't want to attract any unwanted attention.
Whether it's a large operation that requires multiple rooftop units, or if you need a more discreet indoor unit, our Commercial Cannabis HVAC offers both without sacrificing growing quality. Our units also come with PureVida Air cleaner slot. This slot eliminates the need for HEPA and carbon filtration, making your exhaust smell nicer to your neighbors.
Contact Cultiva Systems to Start Creating Your Custom Commercial Cannabis HVAC System
When you grow with Cultiva Systems, you have a partner for life. We can help create a new Commercial Cannabis HVAC system perfect to fit your needs or retrofit your current system to provide superior air quality, heat retention, and odor control. Call Cultiva Systems today to learn more or to get started.
If you're ready to grow more, then contact Cultiva Systems today to get started!