In the competitive cannabis cultivation market, it's essential to keep your products up to purity standards and yield a consistent crop. It's easy to control elements in an Indoor Marijuana Grow facility such as light, soil, and water, but what about the air? The temperature, climate, and humidity are all things that can be factored into how our plants grow. If you're trying to grow marijuana indoors with a standard HVAC system and pool humidifier, then you're not growing to your full potential.
Cultiva Systems is an HVAC company ideal for large indoor farming facilities that are 1500-2000 square feet. It doesn't matter if you grow fruits, vegetables, or marijuana, controlling all the elements will produce healthier and stronger crops all while saving you on energy and operations costs. If you're ready to grow more, then contact Cultiva Systems today to learn how our HVAC Systems can help improve your harvest.
Why Climate Control Matters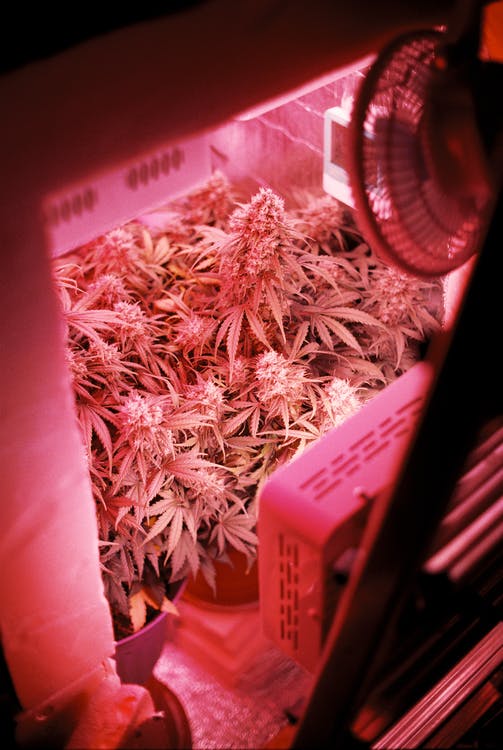 The common issues of modern farming are now a thing of the past. With more indoor and vertical farms taking root across North America, crops are now produced at a faster rate. When you control the dirt, sun, and water in your growing facility, you'll find you have fewer pests and bigger plants. Eliminating the need for chemical fertilizers and pesticides. Controlling the climate can help your Indoor Marijuana Grow better too. Having control of the climate can keep the superior air quality in and pests out. Ensuring your products can maintain purity standards.
At Cultiva Systems we wanted to put climate control in the hands of our customers. You know your crops best and you know what they need to grow. When plants give off heat in their environments, they need the environment to react as though it was outdoors. Since you're not outdoors where the heat can dissipate, you need to be able to strip your facility of humidity without cooling your environment too much. The Cultiva HVAC System is a cross between comfort cooling and humidification combined. Our technology is powerful and flexible. It can handle small loads of 10 – 45-ton capacity.
Start with Cultiva from the beginning to build a custom HVAC system for your indoor growing facility. As your facility grows, we can grow with you. Our engineers work with you and local mechanical contractors to find the right system for your environment. We might recommend one of our smaller, self-contained units, or large rooftop units. Our systems come standard with PureVida air cleaning technology. This reduces odors by 90% and kills bacteria and bugs without hurting your plants.
Save On Energy Costs In Your Indoor Marijuana Grow Facility
The thing that customers love the most about Cultiva Systems is how much money they save on operating and heating costs for their Indoor Marijuana Grow Facilities. Cultiva Systems utilize heat recovery technology. This allows a room to be maintained at a certain temperature without keeping lights on or supplemental heat. Whatever heat is rejected is recovered and then transmitted into the room. No waste heat or transfer heat is lost in the process of cooling.
Not only is this heat transfer good for growing cannabis, but it also is energy efficient.  We provide an energy effecting fan and compressor components reduce your energy consumption and operation.  We integrate these components to maximize energy efficiency while achieving the desired conditions, which results in a lower operating cost to the grower. The results are big savings on heating and cooling costs for your growing facility.
The Cultiva Systems Advantage
Although there are a lot of advantages to investing in Cultvia Systems for your growing operation, one of the best is our state-of-the-art control system. Our HVAC systems have a built-in web server that you can connect to from any device or computer. You can monitor and alter many factors until you find the best combination of temperature and humidity for your Indoor Marijuana Grow facility. You can have different users, set an automatic schedule, and monitor alarms.
At Cultiva Systems, we understand that you've invested a lot to start an Indoor Marijuana Grow operation, and you expect it to be profitable. For you, this isn't a hobby, this is your livelihood. That's why, when something goes wrong, Cultiva Systems is there 24/7 with support. Our team of engineers wants to keep your downtime to a minimum, so you have no issues when it comes time to harvest.
Contact Cultiva Systems To Help Your Indoor Marijuana Grow Today
When you're ready to take complete control of your Indoor Marijuana Grow facility, then contact Cultiva Systems. Our team is ready to help you get involved in the quickly growing cannabis industry. Check out our brochure, and then contact us. One of our friendly associates will get you growing today!