Indoor Farming is the way of the future. Everyone is looking to grow more consistent crops with fewer pesticides and fertilizers. At Cultiva Systems, we're here to help you strengthen the grip on the control of your indoor farming environment. Our HVAC systems put air quality, humidity, and temperature control at your fingertips.
It doesn't matter if you're growing fruits, vegetables, or cannabis, Cultiva Systems is here to help you grow to your full potential. If you're running an Indoor Farming operation that is 1500-2000 square feet, then contact Cultiva Systems today to see how you can improve your growing operation today.
Indoor Farming Is A Growing Industry
With climate change affecting our nation's food supply, farmers are searching for ways they can still produce a consistent crop. When you can control all the elements that help plants grow, you can create the ideal crops.
Many people turn to hydroponics for growing. Hydroponic systems are great for controlling the water and light source, making it ideal for growing plants in dark places. When you can isolate your plants indoors, they won't be vulnerable to pests and droughts. But what about the air in your Indoor Farming facility? How does that play a factor in the growth of your crops?
If your indoor farm relies on a regular HVAC system and maybe a pool dehumidifier, you're due for an upgrade. While these tools work well for homes and indoor pools, they aren't ideal for plants. When plants give off heat in their environments, they need the environment to react as though it was outdoors. Since you're not outdoors where the heat can dissipate, you need to be able to strip your facility of humidity without cooling your environment too much. The Cultiva HVAC System is a cross between comfort cooling and humidification combined. Our technology is powerful and flexible. It can handle small loads of 2 ½ tons, to as big as 10-ton capacity.
A Custom Approach To Meet Your Indoor Farming Needs
Whether you're thinking about building a new Indoor Farming facility or want to make improvements to your current one, start by contacting Cultiva Systems. Our team of engineers works with you to build an HVAC system that best meets your needs, whether it's located inside or outside your facility. Cultiva System's versatile approach can't be met. We can scale our systems up or down to best fit your growing area. Our customers love our commitment to personalization and service. If there's ever a problem, we're available 24 hours / 7 days a week to help you solve it.
Our customers also love the complete control they have over the air quality, humidity, and temperature they gain when they have an HVAC system from Cultiva Systems. With a built-in web server and a state-of-the-art control system, you never have to worry about your plants suffering ever again. You can monitor and alter many factors until you find the best combination of temperature and humidity for your Indoor Farming facility. You can have different users, set an automatic schedule, and monitor alarms. All of these tools will help you understand the needs of your plants better so you can have a more bountiful harvest.
A Reliable System Means Big Energy Savings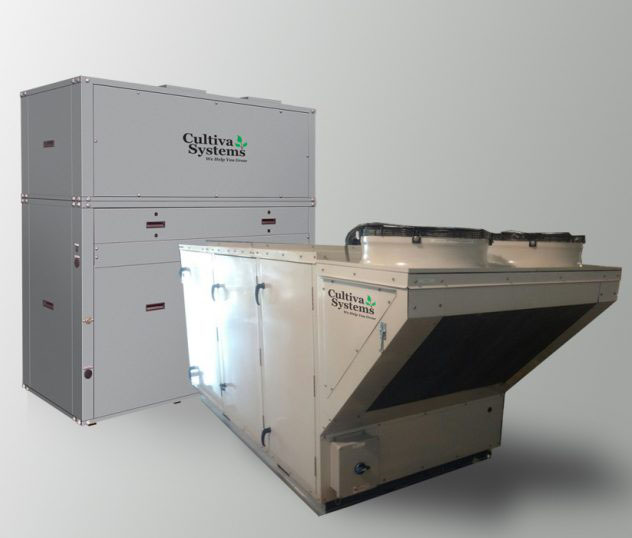 Energy efficiency is important to those who require a lot of it. When you invest in a large HVAC system, you want to sure it is effective without losing heat through improper use or poor insulation. At Cultiva Systems, we understood that growers need a lot of energy to produce crops indoors. That's why we've worked hard to make our systems as efficient as possible by utilizing heat recovery technology and a built-in dehumidifier.
Heat Recovery allows a room to be maintained at a certain temperature without requiring extra lights or supplemental heat. As plants emit heat, our dehumidifying system keeps the balance between humid and hot. Plants will grow while our system cools the room to the ideal temperature. No waste he or transfer heat is lost in the process of cooling. Our energy-efficient fans and compressor components increase operation to achieve the desired results. In the end, you'll have more lively plants at less cost to you.
Experience the Cultiva System Difference Today
If you're ready to save big and grow more, then contact Cultiva Systems to create an HVAC system for your Indoor Farming business today. We are available to answer all your questions for your new or existing facility that can help save you money on energy and production.