Cannabis is a plant that has many uses. CBD products are growing in popularity as well as recreational marijuana. You may have started a Greenhouse Cannabis Grow operation as a hobby, but now you're ready for the next step. Your fondness for growing cannabis in your greenhouse is now bordering on obsession and passion. So much so, you've considered scaling up your operation and transitioning from hobby to career. You're not alone. Many people are taking advantage of the booming marijuana growing industry and it's time you did too.
If you're ready to start a large-scale Greenhouse Cannabis Grow facility, starting with Cultiva Systems is a great first step. We work with you to build a custom HVAC system for your indoor farming operation that is energy efficient and customizable for your crop's needs. You're in control of the air quality, humidity, and temperature of your facility which will allow your plants to grow to their full potential. Contact Cultiva Systems today to start growing.
The Cultiva System's Difference
Cultiva's HVAC system is designed specifically for growing plants and vegetables. Cannabis is one of the plants that thrive especially well in growing environments that use our system. Not only can Cultiva help you take your Greenhouse Cannabis Grow facility to the next level, but we can also help make sure your system is made especially for your growing needs. Here are three differences that Cultiva can provide to help you succeed in the competitive marijuana growing industry.
Customization and Scalability
We at Cultiva Systems know that one HVAC solution doesn't fit every Greenhouse Cannabis Grow facility. We could sell you a cookie-cutter product, but it wouldn't help solve problems that are unique to your indoor farm. Our products are customized for every customer big or small. Our technology is powerful and flexible. It can handle small loads of 2 ½ tons, to as big as 10-ton capacity. Our systems are ideal for larger growing operations, but we know everyone needs to get started somewhere, and starting with an HVAC system that can grow as you do, well that's just a smart investment.
Our engineers work with you and local mechanical contractors to find the right system for your environment. We might recommend one of our smaller, self-contained units, or large rooftop units. All of our units have a built-in web server that you can access from any device or computer. This allows you to monitor and control the humidity, air quality, and temperature in your facility easily. You can set alarms for certain problem areas so you can provide a consistent and optimal growing environment for your plants. Our systems come standard with PureVida air cleaning technology. This reduces odors by 90% and kills bacteria and bugs without hurting your plants.
Powerful Moisture Removal & Heat Recovery
If you are growing a lot of cannabis in your facility, having a strong air conditioner is a must. Regular HVAC systems cannot handle the loads and fluctuations in temperature and humidity that occur regularly in an indoor farm. As plants grow, they live as though they were outside. The growing space should be stripped of moisture at night without making the space too cold. Maintaining this perfect balance isn't possible without the heat recovery abilities that come standard on our self-contained units.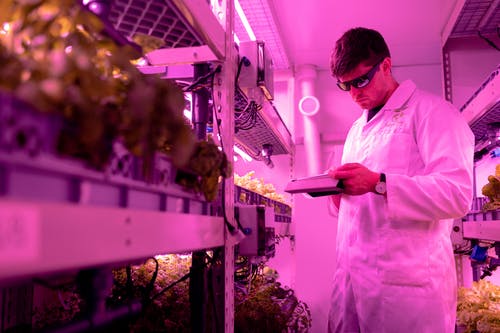 Our Heat Recovery system allows a room to be maintained at a certain temperature without supplemental heat lamps. The heat that is rejected is recovered and the re-transmitted into the room. During the cooling process, heat is not wasted.
Not only is this heat transfer good for growing cannabis, but it also is energy efficient. Save big on heating and cooling costs for your growing facility, by providing an energy effecting fan and compressor components and operation. We integrate these components to maximize energy efficiency while achieving the desired conditions, which results in a lower operating cost to the grower.
Superior Support
If you're serious about starting a Greenhouse Cannabis Grow operation as a career, you're taking a big risk by changing your livelihood. Starting out can be tough and if there's a problem, we understand the need for it to be addressed fast.
That's why Cultiva Systems offers 24-hour support to our customers. Day or night, if you're having a problem, we're here to help. Many other companies can't provide you that level of support, but Cultiva can.
Upgrade Your Greenhouse Cannabis Grow Operation with Cultiva Systems Today
There's a lot to do when starting a Greenhouse Cannabis Grow operation, and Cultiva can help. Contact Cultiva Systems today to learn more about our HVAC system and how it can help your business grow today!