The marijuana industry is booming all over North America. Canada and several states have legalized cannabis for recreational and medical use. The marijuana industry is pouring money into local economies, it creates jobs and promotes the develop of effectient agricultural technology. Cultiva Systems is one of those great technologies. Our system creates the ideal Indoor Cannabis growing climate using energy-efficient technology for large-scale growing facilities.
If you're relying on plants that yield a reliable crop consistently and resourcefully, then you need Cultiva Systems to customize an HVAC system for your Indoor Cannabis growing facility. Check out our Sales Brochure to learn more about how our technology works. Then, Contact Us to get your crops growing like never before.
Save Energy and Money On Your Indoor Cannabis Growing Facility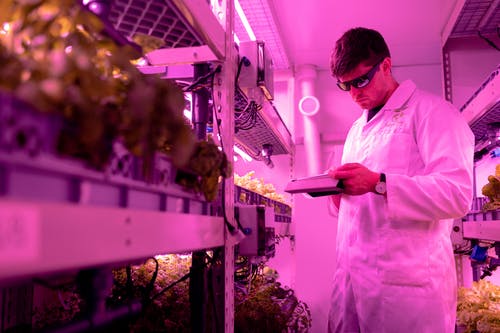 Indoor farming is the way of the future. Farmers are moving their plants inside where they can control all the elements. When you can control the moisture in the air, the rain, the sunlight, and the temperature, you will get plants that thrive! Not only can you control these factors, but you can also save energy on your Indoor Cannabis operation. For example, many hydroponic operations use a closed-loop irrigation system. This system eliminates water waste by recycling the same water throughout its operation. That results in saving over 50% of water usage and uses less fertilizer.
At Cultiva Systems, we knew we could also optimize energy efficiency while giving farmers maximum climate control with a high-tech HVAC system. Our system not only controls the temperature in growing rooms, but it can also dehumidify as well. Taking two systems and combining it into one. Our systems help large operations turn crops consistently with customized air conditioners able to handle very large capacities.
The Cultiva Systems equipment design reduces your energy consumption by providing an efficient fan and compressor components that maximize energy efficiency. This achieves the desired Indoor Cannabis growing conditions; therefore, lowering the cost to the grower.
How Will Cultiva Systems Help My Indoor Cannabis Operation?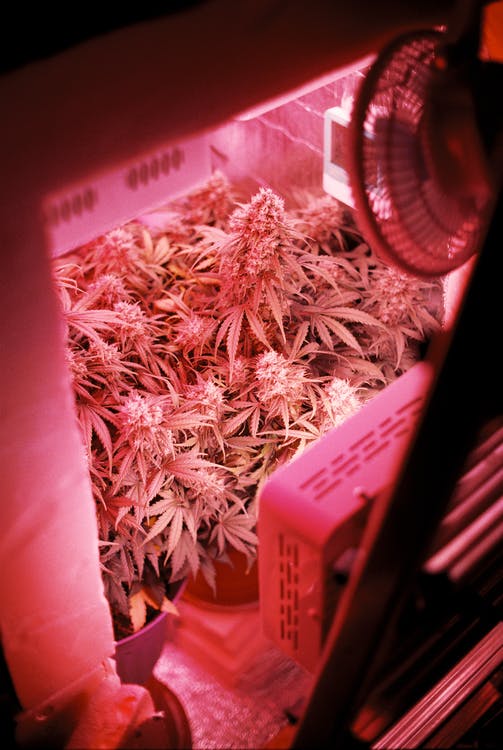 Not only will an HVAC System from Cultiva Systems save you on energy bills and create a better growing environment, but it will also help you produce a cleaner product. The FDA is beginning to regulate and set standards for marijuana tinctures and CBD products for purity. Better climate control means fewer pests in your facility. This reduces the need for pesticides keeping your crops pure. Your crops will also grow larger with controlled elements, eliminating the need for chemical fertilizers.
Our efficiency doesn't stop there. Our systems are superior in heat recovery and powerful moisture removal capabilities for dry rooms. When you need to remove the moisture in the room but maintain the temperature without extra heat, that's where our system outperforms most others. Keep the heat where you need it and stop spending extra money on gas heating or extra lights.
When using UV lights to create extra heat, the air in your facility will not be clean. This can cause your neighbors to smell your Indoor Cannabis growing facility. Cultiva Systems can save you money on air filtration systems as well. Many of our units come with an available PCO air cleaner slot from Pura Vida Air Systems to keep your exhaust air clean and odorless.
Control At Your Finger Tips
No one knows the needs of the crops like the farmer. At Cultiva Systems, we put the farmer in control of every aspect of their climate. Our systems are built to your environment and our variability is wide-spanning. We can go from a 10-ton capacity down to a 2.5-ton. We're not a one-size-fits-all type of business. We work with Indoor Cannabis farmers when they break ground to ensure they can take control of their growing environment from the start.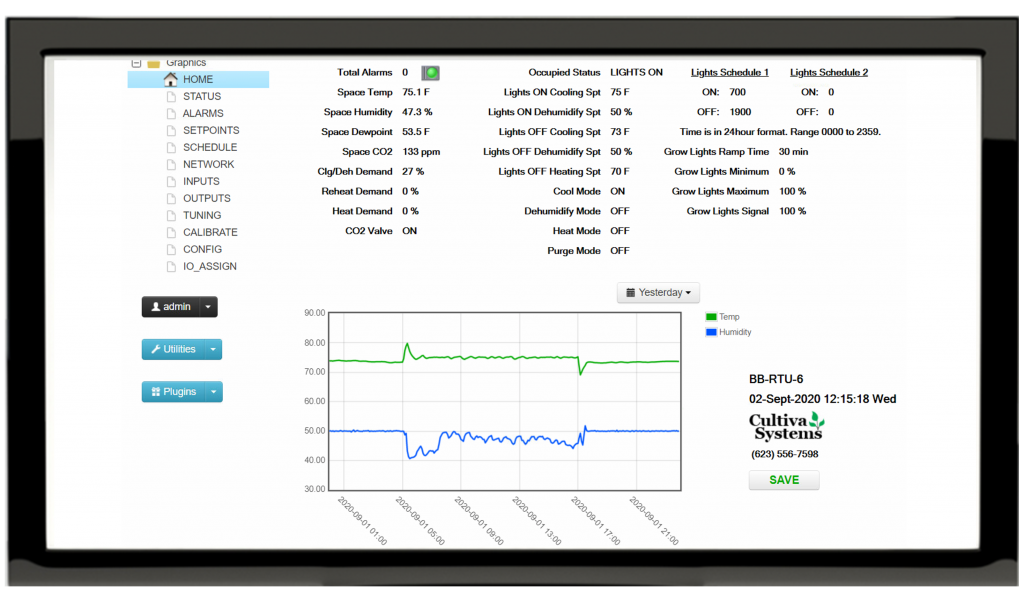 The FS32 is Cultiva's state-of-the-art control panel. See real-time readings and monitor input-output setpoints, and configuration anytime you need. With a built-in web server, you can control your climate control system from any computer or device in your facility. Our rich informative interface will keep you in the loop about the operational status, alarms, and historical data. Our standard sequence of operations includes space temperature, humidity control, CO2 injection, purse, high CO2 alarm strobes, and lighting.
One of our best traits at Cultiva Systems is our customer service. We understand that your growing operation is your livelihood, and one mistake could ruin everything. When your HVAC system isn't working, you can call a Cultiva representative anytime for personalized service. You'll be back up and growing again with limited interruption.
Grow Indoor Cannabis With Cultiva Systems Today
If you're ready to save money, be more efficient, and produce better Indoor Cannabis crops at your large facility, then it's time to call Cultiva Systems. We work with clients all over the United States and Canada. Contact us today to start growing with Cultiva.